4.5.2
Many new features arrive with Veeva Align 4.5.2. This document provides a brief explanation of each features and updates to existing features. Details are available in each linked topic.
Territory Mapping - Placing Accounts and Territories on a map allows users to view the Accounts in their Territories. Maps can accurately represent previously geocoded Accounts and roster members along with the territory's area. The addresses of Accounts and roster members currently assigned to the Territory also display.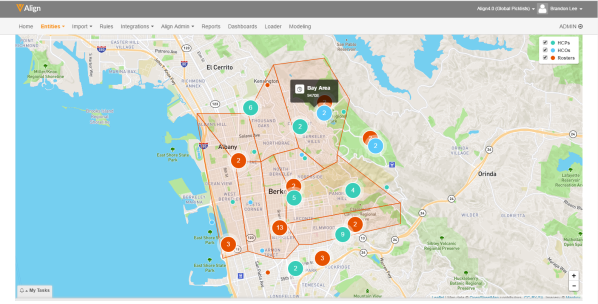 Account Merges in CRM - Account merges are reflected in CRM through regular imports. Record conflicts can occur during an import when values from external ID fields from a losing Account are copied into winning Accounts. The conflict arises from the same external ID being used across two Account records for which Align is not supported. To avoid record conflicts in Align after a CRM import, Align now handles CRM Account merges by altering the External IDs of the losing Account in Align.
Planned Publish Date Preview - Territory Modeling is critical for future planning. Align users can get a more accurate future-dated Account assignment preview by selecting the Project's Planned Publish Date when processing Account Assignment Rules. This feature provides the ability to determine which Account Assignments are active on the Planned Publish Date. All account_territory_model__aln records not live on the selected date are deleted from the table. This ensures the table's contents represent only those assignments valid on that date, enables users to generate clearer assignment reports, and avoids confusion if users switch between as-of dates multiple times.
Selective Rules - Align now has the ability to separate Account Assignment Rule processing when a Field Force or Territory has a combination of rules with Send To CRM = True and other rules with Send to CRM = False. See the Selective Rules section of the Account Rules Engine topic for more information.
Integration Users in Align and CRM - The Align Integration User should be used for daily processing of jobs in Align. Certain processing jobs in Align need to use a Vault User Account to read and update Vault records. For audit tracking and troubleshooting purposes, it is better to use a customer-provided Vault User Account with a different Vault login from the Align admin. The Align Admin Vault User Account should only be used during Align upgrades and patches.